Sustainable Internet is a manifesto for a wired sustainable future.
On the website ten guidelines are described, in order to outline a sustainable approach to the internet from an environmental, social and economic perspective. Existing problems, solutions and practices are presented, both for contents' production and use. Also, some important thoughts are expressed, about sustainability issues related to the web's infrastructure.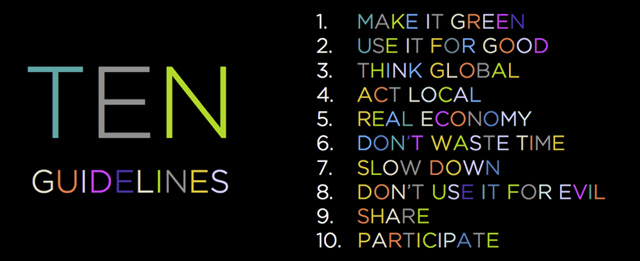 Though very simple, Sustainable Internet's guidelines remind us of key concepts from human-centered design. Developers, designer, researchers, and the users themselves are invited to pay attention to those fundamental issues, as they all have the power to influence how the future of internet will look like.
Sustainable Internet is an initiative by Jorge Zapico, a PhD Candidate at The Royal Institute of Technology, researching the intersections of ICT and Sustainability at the Centre for Sustainable Communications.

I must say Apple devices at the beginning of his presentation are quite far from my idea of sustainable informatic development. Still, I do share many of his ideas and I'm looking forward to further development of his project.
::
see also: