The Official Google Blog: A new approach to China; January 12th, 2010

On January the 12th a key post was published on The Official Google Blog. As a new year response from Google to the ever-existed reserves about its censorship policies abroad, its title said it all: a new approach to China.
The article informed that Google's corporate infrastructure was stricken by a targeted attack originating from China. According to the American press, multiple attacks were coming from Taiwan, which is a quite usual practice for Chinese hackers.
In response to this attack, Google reacted very firmly: "we should review the feasibility of our business operations in China. We have decided we are no longer willing to continue censoring our results on Google.cn, and so over the next few weeks we will be discussing with the Chinese government the basis on which we could operate an unfiltered search engine within the law, if at all. We recognize that this may well mean having to shut down Google.cn, and potentially our offices in China".
That way Google, a company present on the stock exchange, not an international institution, issues maybe the most relevant challenge ever directed to the Chinese government and its doubtful practices, dealing with human rights.
Investigations took place, in order to find out the importance of this attack; the potential relevance of such an action was that high, that the National Security Agency and other intelligence services looked closely at the event.
What Google found out from its investigations, was that "at least twenty other large companies from a wide range of businesses – including the Internet, finance, technology, media and chemical sectors – have been similarly targeted"; now we know they're probably 34, and guardian.co.uk reported that Yahoo and Adobe appear to be among those companies.
In addition, evidence suggests that the attack was also targeted to Gmail accounts from Chinese human rights activists. Google stated that "only two accounts appear to have been accessed, and that activity was limited to account information (such as the date the account was created) and subject line, rather than the content of emails themselves".
Also, mails from dozens of Gmail users who are human rights advocates in China (from the US, Europe and China) appear to have been accessed via phishing or malware.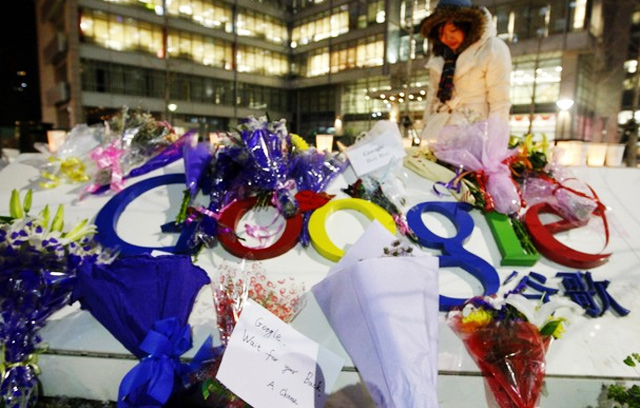 Google choosed to share the informations about these attacks with a broad audience, above alle because they go to the heart of a global debate about freedom of speech. Its announcement bounced around the world press and, of course, it triggered a great discussion: while th US government declares its worries about the ability of operating with trust on the Internet, someone underlined the bad consequences of Google's drastic retreat (though just potential, yet) from the Chinese market. In the meanwhile human rights campaigners, freedom of speech advocates and dotcom entrepreneurs all applauded the Californian company's decision, and Chinese Google users offered bouquets of flowers at the Google China headquarters in Beijing.
::
see also:
Huffington Post: Google In China LIVE BLOG

guardian.co.uk: Google, Yahoo, Adobe and who? January 14th, 2010

guardian.co.uk: Google's move on Chinese censorship welcomed by human rights activists

rapid city journal: Google's decision on China traces back to founders; January 13th, 2010

public intelligence: China Googleplex; January 13th, 2010

The New York Times: Google, citing attack, threatens to exit China; January 13th, 2010

Wired IT: Google dice no alla censura in Cina, ha inizio la cyber guerra fredda; 13 Gennaio, 2010
(Italian only)
pictures:
Elizabeth Dalziel
Jason Lee