www.betavine.net/bvportal/community/sustainability

EcoMo09 is an event which took place in London the past September, 11th at 6:00 PM to 12th at 6:00 PM. It was open to all software developers who wanted to have a positive impact on society and the environment. Wi-Fi and power on location were provided, while laptops, software development kits and any other tools were to be brought by the participants.
Vodafone and Betavine organized the event, a 24-hour dev camp competition. Workshops on environmental data sources took place during the event, and developers used their "green" coding skills to create prototype software tools to help people reduce their impact on the environment. EcoMo09 was also intended to offer opportunities to socialise, collaborate and network with code peers.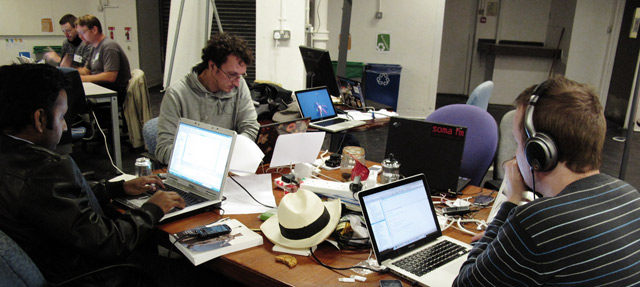 EcoMo09 is one of a number of Vodafone initiatives in the area of sustainability. Based on the inputs received from a range of sustainability experts and activists a set of stimulus ideas for the event was developed, to act as a catalyst for prototypes.
At the end of the dev camp, the judging panel reviewed the prototypes and selected winners based on how well they have responded to the competition challenges. Following the event, the prototypes kick started an open source sustainability code bank to create, and build on, new tools.
::
see also:
www.vimeo.com/user2311507/videos

Sustainability blog: The Carbon Tippy Toes project; Jun 11th, 2009

Sustainability blog: Workshops at EcoMo09; Aug 28th, 2009

Sustainability blog: EcoMo09 done… looking forward to EcoMo10; September 16th, 2009

Sustainability blog: EcoMo09 links-in-progress; November 14th, 2009

www.tinyurl.com/betavine-sustainability

picture: Kevin McDonagh