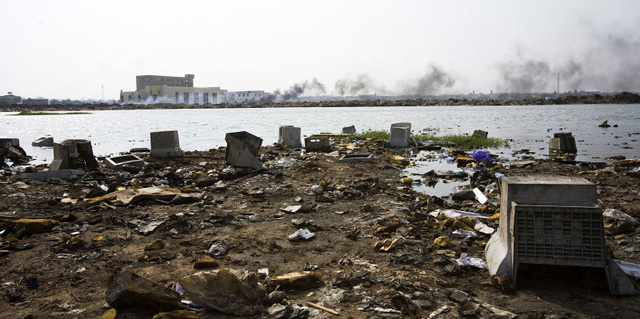 www.pbs.org/frontlineworld/stories/ghana804/video/video_index.html

On the outskirts of Ghana's biggest city sits a smoldering wasteland, a slum carved into the banks of the Korle Lagoon, one of the most polluted bodies of water on earth. The locals call it Sodom and Gomorrah. Peter Klein and a group of graduate journalism students from the University of British Columbia went there as part of a global investigation, to track a shadowy industry that's causing big problems there and around the world.
Right now there are no tough U.S. laws regulating the disposal of e-waste, leaving companies and consumers to sort out the claims of recyclers on their own. Following the recycling process as a consumer would, students drop off some e-waste at a facility on America's West Coast. They are assured that what they are bringing in will be disposed of safely and locally. A few weeks later, their reporting takes them to the port of Hong Kong.
Just a few miles from Hong Kong's port, are mountains of computer monitors, printer cartridges, relics of old video arcades. In China, e-waste has become big business. The southern Chinese city of Guiyu has been completely built around the e-waste trade. Miles and miles of nothing but old electronics.
On the last trip of the assignment, the team heads to India. No longer just a dumping ground, India is now generating its own e-waste at an alarming rate, thanks to a growing middle class with a taste for high tech. "Last year, we sold more than seven million PCs in India" says Indian businessman Rohan Gupta. "We generated 330,000 tons of electronic waste within India. So all these are going to comeback to the waste stream sooner or later. It's a growing industry".
www.pbs.org/frontlineworld/stories/ghana804

SpringerLink: Urban Waste Pollution in the Korle Lagoon, Accra, Ghana; November 2nd, 2004

picture: Jane Hahn ©